The Power of Branding
In a world where every business, big or small, strives to stand out in the crowded marketplace, the power of branding cannot be overstated. Branding is not just about a logo or a catchy tagline; it's the soul of your business, the promise you make to your customers and the unique identity that sets you apart. Understanding and harnessing the potential of branding is a journey that every entrepreneur and marketer embarks upon, and it's a journey made all the more enlightening with the guidance of an expert.
Meet the Expert Behind Finding Brand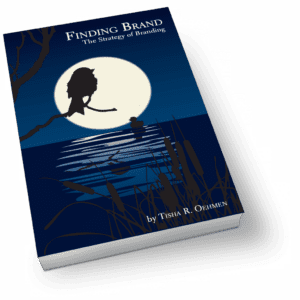 Tisha Oehmen, a seasoned brand strategist and visionary, brings her wealth of knowledge and experience to the forefront with "Finding Brand: A Brand Book Tutorial." In this comprehensive guide and accompanying blog, she unravels the intricate layers of branding, offering valuable insights, actionable advice, and a roadmap for crafting a brand that resonates, captivates, and endures in the minds of your audience.
As the founder of Paradux Media Group and a trusted name in the branding and marketing industry, Tisha has witnessed firsthand the transformative power of a well-defined brand. With "Finding Brand," she invites you to embark on a transformative journey to redefine your understanding of branding and elevate your business to new heights.
For Marketers and Entrepreneurs
Whether you're a seasoned marketing professional seeking to sharpen your branding skills or an aspiring entrepreneur looking to build a brand from scratch, Tisha Oehmen's "Finding Brand" promises to be your go-to resource. From the basics of brand identity to the intricacies of brand strategy, this tutorial and blog offer a comprehensive and accessible guide that will empower you to discover and craft a brand that speaks to your audience and leaves a lasting imprint in their hearts and minds.
Embark on a Branding Adventure
Join Tisha Oehmen on this enlightening branding adventure as she shares her expertise, anecdotes, and industry secrets to help you find your brand's true essence and make it resonate in the hearts of your target market. "Finding Brand" is not just a guide; it's a transformative journey that promises to unlock the full potential of your business's identity and impact.